dRAST™
Simplifying susceptibility testing
dRAST™ is a rapid AST platform that identifies optimal antimicrobial after a positive blood culture, while other conventional systems take 2-3 days
EFFICIENCY

Automated AST optimises your workflow, with less than 1 minute of hands-on time to operate
ACCURACY

Consistent and accurate identification ensures optimal antimicrobial treatment
SPEED

Only 4 hours from positive blood culture to result reduces mortality, complications, and relapse
DRASTTM

Detect earlier.
Treat faster.
Simplifying susceptibility testing
Fast
Rapid AST with
MIC & SIR direct from PBC
Comprehensive
Full Expert System on board
with dynamic algorithm
Easy
Easy to use interface
with low hands-on time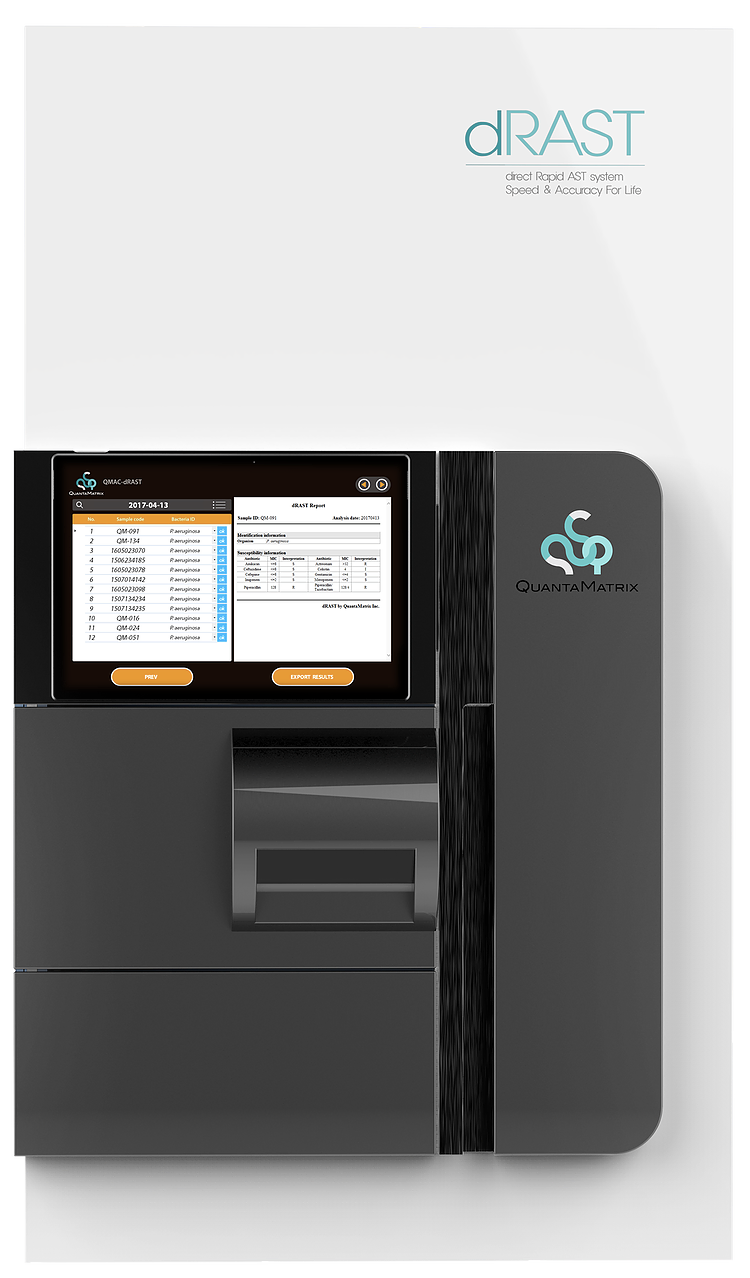 Random access
Continuous loading for optimal handling of urgent care patients
Flexible
Incorporating international guidelines & recommendations: EUCAST, CLSI &
CA-SFM
Connected
LIS BI-directional with easy Bacteria
Identification integration
"
An overall combined CA for both GNs and GPs of 96.3%. The presented time to report data obtained by QMAC-dRASTTM in this study being of 3-8 hours for blood-culture specimens examined strongly support a further possible improvement in the workflow for handling blood stream infections.
Jens Jørgen Christensen, clinical professor
The regional department of clinical microbiology, Zeeland University Hospital
"
Reporting based on MALDI-TOF MS results on susceptible/resistant pathogens, optimal targeted treatment was found respectively in 79%/63%, unnecessary broad-spectrum treatment in 16%/5%, suboptimal treatment in 4%/1%, and appropriate antibiotic treatment 100%/68%. Adding QMAC-dRASTTM results to the decision making raised the percentage of optimal antibiotic treatments to 98.2%
Kim J-H
Chemother. 2019 Aug;74(8):2255–60.
Patended 96 wells plate with dried antibiotics
Feature
Gram Positive / Gram Negative panels for positive blood culture
Get consistent, reliable results into the right hands
Feature
Proprietary algorythms, databases, expert EUCAST ruler, and state-of-the-art imaging technology automates MIC determination and SIR interpretation, delivering objective reporting directly into the right hands

MIC: Minimum Inhibitory
Concentration
SIR: Susceptible, Intermediate and Resistant
Re-inventing classic AST
Shorten time to treatment with automated testing
dRASTTM utilises modern microfluidic technology to automate conventional reference methods:
1. Broth microdilution


Re-invented with 96-well plates for optimal phenotyping MIC



2. Diffusion


Liquid-solid media brings fixed bacteria to interact with multi-drug panel
dRAST™ is the solution to help you care for sepsis patients
Frequently Asked Questions
Gram Negative
on dRASTTM GN panel, we feature 4 drug mixes:
-Cefotaxime
-Cefotaxime / Clavulanic acid
-Ceftazidime
-Ceftazidime / Clavulanic acid
Based on CLSI decision matrix, dRASTTM will analyze the difference of MIC within these 4 drug mixes.
dRASTTM will therefore produce an ESBL result : Negative or Positive based on MIC differences
With 8 wells on Imipenem and 8 wells on Meropenem, we have a very clear MIC result which clearly indicates if the bacteria is resistant or not to carbapenem drugs. This also applies to Pseudomonas aeruginosa and Acinetobacter baumannii
dRASTTM does not feature an AmpC flag per se but with the 3 cephalosporin drugs present on GN panel (Cefepime, Cefotaxime, Ceftazidime), dRASTTM provides a clear susceptibility information regarding any resistance towards cephalosporin drugs.
Gram Positive
For Staphylococcus aureus, Staphylococcus lugdunensis & Staphylococcus saprophyticus, we feature Oxacillin and Cefoxitin Screen which clearly indicates the difference between MRSA & MSSA.For other Staphylococcus species, resistance is determined on Oxacillin MIC results. Cefoxitin Screen is less susceptible for these species.
Yes. If the strain is resistant to Erythromycin, in this case, dRASTTM considers the iCLI well on GP panel (mix of Erythromycin/Clindamycin). If any growth on iCLI well, iCLI appears positive and resistance to Clindamycin is detected
With 7 wells on Vancomycin, MIC result is produced on Vancomycin providing clear indication of VRE.
With 7 wells on Teicoplanin and 7 wells on Vancomycin, MIC result is produced on dRASTTM providing clear indication of GISA presence.
Other interesting content
Looking for something else? You might be interested in this as well.
Culture Media
SSI Diagnostica holds many years of experience within production of culture media. Our production facilities are modern with high capacity and ISO 13485 certified.
Rapid Tests – Fast and easy aid in the diagnosis
Rapid tests are lateral flow immunoassays for qualitative detection.
Contact
Please, reach out if you have questions, comments or requests.